A02 Tŏnus TB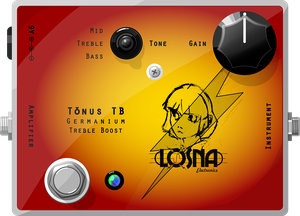 Buy on Reverb
Germanium Treble Booster
Classic single N.O.S. Germanium PNP transistor Treble Boost, cleans up very well with the Volume control on the guitar, not buffered.
Controls: Tone, Gain and Q-Point.
Handmade with high quality components. Airbrushed. High-gloss, scratch-proof, Cherry Sunburst automotive finish.
The Tŏnus Treble Boost operates with standard center-negative power supply, the RGB LED turns solid red when DC polarity is reversed. The internal slide switch disables the RGB LED to reduce the overall power consumption up to 40%. The mechanical True Bypass is designed to prevent popping sound during guitar signal switching.
Internal trimmer to adjust the transistor biasing (Q-Point).
3 position EQ toggle switch with water-proof rubber cap.
Slide switch to disable LED for battery saving.
Build-in filter to attenuate AC and EMI noise from the 9V DC power source for quieter operation.
Operates with 9V battery or regulated 9V DC center-negative power supply.
DC reverse polarity indicator light.
True Bypass designed to eliminate audio popping during switching.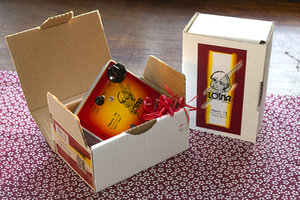 🔎︎
Download Manual:

Audio sample (Fender T model):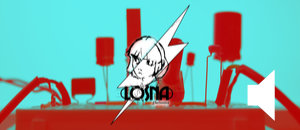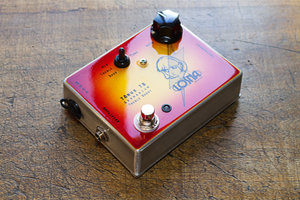 🔎︎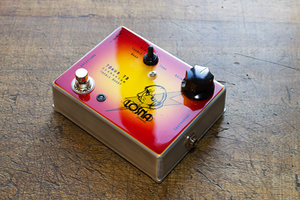 🔎︎